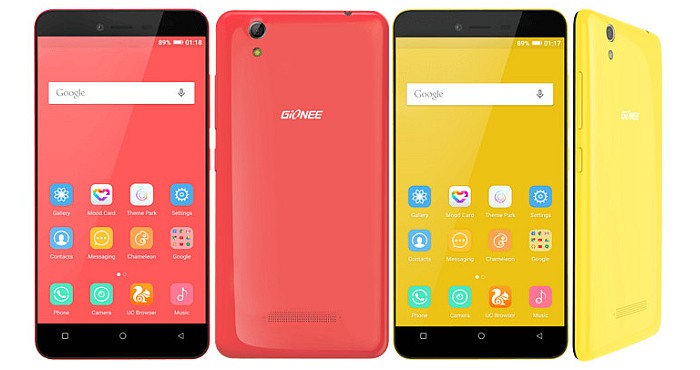 If you're a fan of bright colors, then the new entrant to the Gionee smartphone lineup, the Pioneer P5L will surely win you over. Gionee has been slowly climbing up the sales charts in India and this phone has been launched targeting the budget segment. The budget category of smartphones has seen a tremendous jump in terms of sales. This is mainly due to the fact that smartphone manufacturers are making more and more devices that provide some awesome hardware at dirt cheap prices. The Gionee Pioneer P5L does not live up to the expectations of a powerful budget category phone, but provides some decent specifications nevertheless.
Priced at Rs.8,499 ($125), the Pioneer P5L will have a tough time making a mark in a segment that is ruled by Xiaomi, Huawei, and Asus. Their phones come with better hardware and better specifications at the same price or a tad higher. The Pioneer P5L has been launched as a replacement to the Pioneer P5L which the company launched sometime in 2014. Back then, the phone has modest specifications. But for today's standards, it looks like Gionee has made a mistake. Starting off from the display, the Pioneer P5L sports a 5-inch IPS display with capacitive touch. It has a modest resolution of 1280×720 pixels, which is the bare minimum nowadays. The phone has an ergonomic design which makes it easier to hold.
The biggest difference between the older model and the new one seems to be in the camera department. The earlier P5L had a 5 megapixel shooter at the rear and a 2 megapixel camera in the front. The new P5L has a significant upgrade and sports a 5 megapixel camera on the front and an 8 megapixel shooter at the rear. The phone also has 4G LTE with VoLTE support, something which was not present in the older model.
If you are a fan of UIs from Chinese phone makers, then you'll probably love the Amigo UI based on Android 5.1 Lollipop. The phone is shipped with Android 5.1, but doesn't have any promised updates to Android M. The battery in the phone is also pretty meagre at 2,300mAh. But considering the specifications of the phone, the battery would be enough for a day's usage. The phone is available in 6 different color options. It is available in red, black, white, golden, blue and yellow.